Before the age of 16, one in four children will experience at least one traumatic event in their life:
Without acknowledgement and support, this often leads to anger, addiction, depression, self abuse, difficulty and/or avoidance of relationships, interacting or trusting in others.
The National Institute of Mental Health (NIMH) estimates that 26.2% of American adults (age 18+) about one in four adults — will have a mental illness at one point in their lives.
Results: Equine Therapy vs Traditional Therapy:
3 times faster rate of acknowledgement and willingness for support.
Statistically participants attend ET sessions with more regularity than traditional therapy sessions.
Equine Therapy is a non-judgmental experience that does not feel like therapy. On average, participants prefer to attend an ET session.
Equine Therapy provides a self discovery solution vs a diagnosed solution using metaphors through the horses. Participants acknowledge the source of their emotional or behaviors issue through the horses and help develop their own plan of growth and hope.
In order to keep Hope Remains Ranch operating smoothly, we rely on your donations. We are a 501(c)(3) not-for-profit organization. Your donations are tax-deductible to the extent allowed by law. We thank you in advance for touching the lives of children, their families and adults in need with your generosity.
About Equine Therapy
Why horses? Any equestrian knows the impacting influence horses have on humans. Throughout the years, from early European history, it's been proven time and time again that people easily develop relationships with these 1,000 lb+ animals. Horses naturally affect people in powerful ways to promote a positive attitude. Not only that, but horses mirror us. Because horses mirror our behaviors and reflect them back to us, we can better understand our emotions and moods and the way we are outwardly showing them to others. This is something we teach at Hope Remains: how our internal emotions come out through our external actions and how that effects other people. Horses help break down the walls that individuals have built which helps us get to the root of the problem that is being presented and more effectively solve the issue, and share that there is hope for them through Jesus Christ.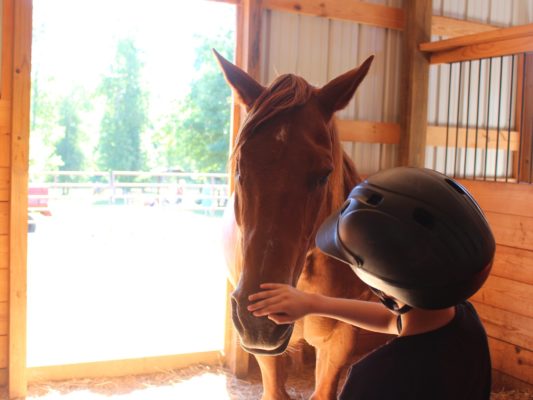 Private Programs
Healing Hooves, Horse Business
Group Programs
The Mane Event, Marvelous Minis, Horse Play
Merchandise
Click below to view our merchandise offerings, that help others receive the gift of Hope Remains.
HOPE REMAINS GOALS
The primary goals of Hope Remains Ranch are to re-educate youth, their families and adults, to instill good moral values, to provide guidance, and assist them in structuring a meaningful life…